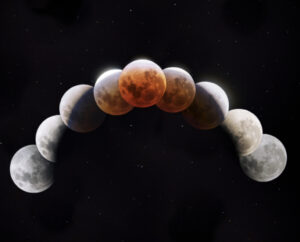 On November 8th, at 6:02am EST, the Moon opposes the Sun (in 16 degrees of Taurus/Scorpio).
This powerful Full Moon is also a Lunar Eclipse. Every six months, the Sun, Moon, & Earth align precisely enough for Solar and Lunar Eclipses to occur.
During a Lunar Eclipse, the Full Moon slowly dims as it passes through the Earth's shadow, stimulating our emotional body and increasing our awareness of unconscious patterns and fears.
If you'd like to learn more, and as a Member of my online community, click here to watch my whole Lunar Eclipse video. Not yet a Member? Watch a 15-minute excerpt of my Lunar Eclipse video here.
This powerful Full Moon is a Total Lunar Eclipse viewable across Asia, Australia, the Americas, and the Pacific. The duration of totality lasts 85 minutes (=1hr 25min), so we will feel the influence of this Lunar Eclipse for approximately 43 days.
This Total Lunar Eclipse will also fall on the upcoming Election Day in the USA; this is the first Election Day total Lunar Eclipse in U.S. history, and it won't happen again until November 8th, 2394!
This particular Lunar Eclipse is the second of two Eclipses within two weeks; it offers an opportunity to value ourselves, each other, and the Earth.
There is an emphasis with this Eclipse on creating a healthy sense of self-esteem and having a healthy relationship with the physical world.
And what's the best way to accomplish that? By facing our fears, healing old trauma, and owning our power, we are releasing what's been holding us back — individually and collectively.
As you might know from my last Solar Eclipse video, Eclipses are always powerfully connected to the Moon Nodes and thus to our Soul's Journey (both collectively and individually). All Eclipses transmit new energetic codes and transformative downloads, symbolized by the signs involved; in this case: The Moon is in steady, peaceful Taurus, while the Sun is in passionate, all-or-nothing Scorpio.
The more receptive we are to these transformative downloads, the more quickly and easily we can integrate them; time in nature, meditation, art, and spiritual endeavors support this integration process and help us better attune to these evolutionary upgrades.
The Lunar Eclipse highlights relationships of all kinds — but with this particular Full Moon/Lunar Eclipse, there is a heightened emphasis on self-value and intimate relationships. Full Moons also illuminate the truth and consequences of our choices.
We become aware of what has been suppressed or ignored — or, this being a North Node Eclipse, what we need to explore, embrace, and integrate about the Taurus energy.
It's been 19 years since we experienced a Lunar Eclipse in this degree of Taurus. Think back to November 9th, 2003: What did I need to integrate back then? What became clearer at that time around exploring my talents? What about my self-worth? Was I able to see my value? What about my relationship with money? To my physical reality? My Body? My ability to receive pleasure? To experience peace? Where do I need to take this to the next level?
We will also address this upcoming Lunar Eclipse in our next Forecasting Forum on November 12th! Please join us if you'd like to know how this powerful Lunation will impact you personally. We will also address Jupiter's Station Direct phase in Pisces. What have you learned about yourself and life since July 28th? What new perspectives are you ready to bring to the world?
There is currently an Early Bird Special that is available until November 8th! So I invite you to take advantage of that — unless you are already a Star Member — you are automatically registered and will receive an invite email to join us live (it goes out the day before the live event). I release the mp4-video recording within 24 hours of the live event.
That's it for announcements and logistics; back to the Lunar Eclipse:
Many planets are involved in this powerful Full Moon/Lunar Eclipse chart — an important T-Square with Saturn as the Focus Point in Aquarius and the empty leg in Leo. The Moon conjuncts Uranus in Taurus, while the ruler of Taurus (Venus) still conjuncts the Sun and Mercury in Scorpio. The ruler of Scorpio (Pluto) is still in Capricorn, sextiling Neptune & Jupiter, who have come back together in Pisces.
Mars (the traditional ruler of Scorpio) is now Retrograde in Gemini, still exalted until November 13th, creating a lasting Square with Neptune and now Jupiter in Pisces. The good news: we also have a Trine (a harmonious aspect) between Venus (ruler of Taurus) and Neptune. More about the specifics in regards to all of this in a moment.
This Full Moon is the third Lunar Eclipse in the Taurus-Scorpio polarity, connected to the current Moon Nodes in Taurus/Scorpio  –– a process which will continue to unfold until…
***
ALREADY A MEMBER? Scroll down & keep reading (make sure you are logged into your Member's account)!
GET IT ALL! Get access to the whole article with all the current Full Moon/Lunar Eclipse questions — as well as other awesome and exclusive content — become a site member (still, for the price of a cappuccino!) 😉
***

The more an Eclipse activates our birth chart, the more we feel impelled to go to the next level. Because Eclipses are so powerful, they require a bigger orb than a regular Full or New Moon. I usually use a 5º orb instead of 2º — so since this Lunar Eclipse takes place in 16 degrees of Taurus:
Do you have your Ascendant, Career Point (or personal planets) in 11-21 degrees of Taurus, Scorpio, Leo, or Aquarius? If so, you are more affected by this month's powerful Full Moon/Lunar Eclipse. The same is true for those of us who have our Ascendant or Sun-sign in Leo or Cancer (the Sun rules Leo; the Moon rules Cancer).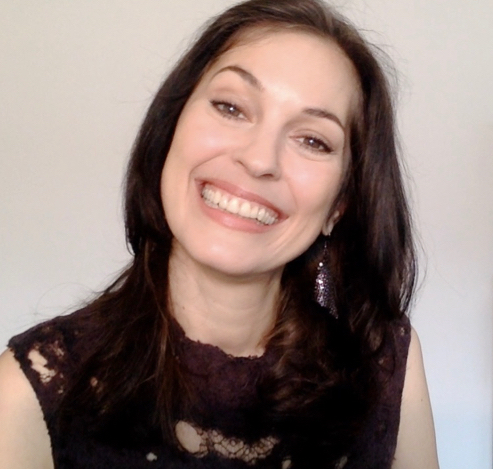 Sonja's passion is for connecting with people and helping them transform their lives. This led her to train as a life coach, in addition to her lifelong study of Astrology. With her Readings, her coaching and her Soul-Based Astrology Courses she aims to empower and support people in fulfilling their life's potential and aligning with Soul Purpose.