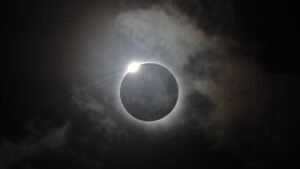 On Oct. 14th at 1:55pm EDT, a Solar Eclipse becomes exact at 21 degrees of Libra  —  you may also want to watch my Solar Eclipse video.
48 hours before and after an Eclipse, we are experiencing heavy energetic downloads, so it's best to wait to set Solar Eclipse Intentions until after these intense downloads are over.
Solar Eclipses are extra-powerful New Moons that take place approximately every six months — this is the second Solar Eclipse in 2023 (in this particular Eclipse cycle that will be in effect until March 2025). The first Solar Eclipse of 2023 took place in Aries on April 20th.
Think back to late April and see what seeds got planted in your life in connection with the last Solar Eclipse. Did you set Solar Eclipse Intentions on April 22nd or 23rd? Did something end or begin at that time? What have you discovered about your physical vitality and self-identity?
This Eclipse is an Annular Solar Eclipse; these occur when the Moon passes between the Sun and Earth while the Moon is at or near its farthest point from Earth. Because of the distance to the Earth, it appears smaller than the Sun and does not entirely cover the Sun. As a result, the Moon appears as a dark disk on top of a larger, bright disk, creating what looks like a ring of light around the Moon.
This Eclipse will be most visible in parts of the United States (mainly Oregon, Northern California, Nevada, Utah, New Mexico, and Texas), Mexico, and many countries in South and Central America.
Everyone in the U.S. will see a partial Solar Eclipse, with those farther West seeing a much more significant chunk taken out of the Sun.
No matter where you are on the planet, however, the effects of the Eclipse will be transformative globally.
We also addressed Eclipse Season and the Solar Eclipse in Libra in more detail in our webinar: "Eclipse Season & Pluto Station".  If you missed this fantastic online event ==> click here to get this fabulous 1hour 45 min. webinar
The Sun and Moon are connected to one of the Moon Nodes during an Eclipse, alternating between North and South Node Eclipses, emphasizing the evolutionary upgrades available to us during such times.
This is the first South Node Solar Eclipse in Libra since the Moon Nodes moved into the Aries-Libra polarity on July 17th, 2023.
Solar Eclipses, in particular, often correspond to significant endings and beginnings. They occur close to the same degree every 19 years, and the last time we had a New Moon/Solar Eclipse in this particular degree and sign while the South Node was traveling through Libra was on October 14th, 2004.
We will likely experience a resonance between now and that time — "resonance", not repetition — so think back to the Fall of 2004 and ask yourself: Were there any significant endings and beginnings? What was important to me back then? If I were to take those priorities to the next level, where would that next level find me?
A couple of things to note for this Solar Eclipse chart: the New Moon not only aligns with the South Node but also with Mercury in Libra; it also makes a Quincunx to Uranus in Taurus and an opposition to Chiron & the North Node in Aries.
Pluto in Capricorn has a potent role in this Eclipse chart, as it is exalted (due to its Station phase), and it squares the Moon Nodes and, therefore also the New Moon/Solar Eclipse.
Squares are 90º aspects that mark a turning point that we must take to make progress; they ask us to stretch and grow beyond who we used to be.
These are the major themes of this Solar Eclipse chart, and we will address them in more detail. First, let's talk a bit more about…
***
ALREADY A MEMBER? Scroll down & keep reading (make sure you are logged into your Member's account)!
GET IT ALL! Get the whole Forecast with all the Solar Eclipse questions — as well as other awesome and exclusive content — become a site member (first month is FREE!)
***

Do you have your Ascendant (or any personal planets) in 16-26º of Libra, Aries, Cancer, or Capricorn? If so, you may feel the effects of this powerful New Moon/Solar Eclipse more strongly. This is also true for those of us who have our Ascendant or Sun-sign in Leo or Cancer (the Sun rules Leo; the Moon rules Cancer).
Setting Intentions for a Solar Eclipse is a little different from the regular monthly New Moon process — after all, we are setting them for the whole 5.5-month Eclipse cycle, rather than just the next 28 days.
Solar Eclipse Intentions are best done 48 hours after the Eclipse becomes exact. We are downloading new templates at the time of an Eclipse, and the energies are quite intense, so we want to wait until it all settles down a little before setting our intentions… We also definitely do not want to do this during a Moon void of course.
The best and most potent times to set your Intentions for this Solar Eclipse are between 1:55pm (on Oct. 16th) and 11:44am (on Oct. 17th) and then again from 3:36pm (Oct. 17th) until 1:55pm (on Oct. 18th) — (in US Eastern Daylight Savings Time — i.e. the New York time zone).
Set powerful intentions — again, they cover the next 5.5 months — and if possible, align them with the Libra energy!
If you live in a timezone other than EDT (US East Coast time), and converting time zones isn't your thing, I suggest joining my Facebook Fanpage and/or following me on Twitter, as I post reminders when it's time to set your intentions.
For more details on how to set Intentions, click here.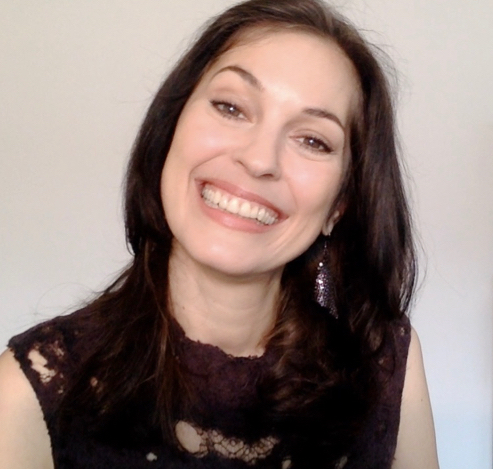 Sonja's passion is for connecting with people and helping them transform their lives. This led her to train as a life coach, in addition to her lifelong study of Astrology. With her Readings, her coaching and her Soul-Based Astrology Courses she aims to empower and support people in fulfilling their life's potential and aligning with Soul Purpose.