Description
Join Astrologer Coach Sonja Francis and empowerment-based Intimacy Guide Honey Harken for this beautiful 3-Day Retreat and a deeper exploration of Venus, the Goddess of Love.
Would you like to dive deeper into your own birth chart and learn more about how to express your own Venus energy to the fullest and in a healthy way?
How many of you have noticed a pattern when it comes to your relationships?
We will address:
Venus patterns
Venus conditionings
Trauma
Fears
unpleasant memories connected to our Venus experiences
To learn more about our relationship to Venus, fully dive into this relationship and possibly heal or begin to heal trauma from our past, we will use:
Astrology
The Sedona Method
Dance
Art
Journaling
Sharing
Witnessing
And many amazing exercises
When: June 23rd – 25th, 2023 (Friday-Sunday)
Where: Austin, TX
Give yourself a chance to dive deeper and leap forward into love with yourself and with others!
We are living in a time, where each one of us counts and contributes to the collective in either a meaningful or destructive way. Do you want to be a part of something that helps more people to contribute in a meaningful way and from a place of love, from a place of healthy self-love?
I think we can all agree the more love and healing we can do ourselves, the more love and healing the world receives. Are you ready?
**All Star Members get a 15% discount for this 3-day event. You can save $96.60!
*****
" Sonja is a wonderful compassionate teacher and I feel blessed to have her leading the way!" — Karen W.
"Honey is willing to bring not only her strength, she brings her own vulnerability and humanity to the table." — Christopher P.
"Sonja seems the most grounded of the astrologers around (this world really needs as much light as possible at the moment) and she is keen to help people towards healing and understanding in a way others aren't. It's much appreciated" — Steve M.
If you get the opportunity to work with Honey, jump on it! I highly recommend her as she is one of the most heart-centered and gifted humans I have had the privilege to work with. It was an honor to be on the receiving end of her focus and love." — Salvador M.
"I truly know the world is a better place with Sonja here, talking to us individually and in groups, broadcasting and connecting everyone with what's important and with compassion." — A. F.
"I've worked with Honey in and through some of the most vulnerable places in my heart and soul and I have never felt so held in love than I have with her. Her insight and ability to weave magic into the mundane is unrivaled" — Amber K.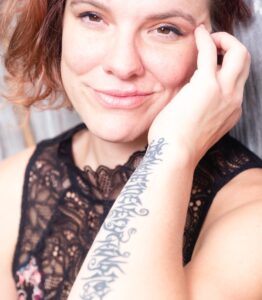 To Read more about Honey Harken, click here